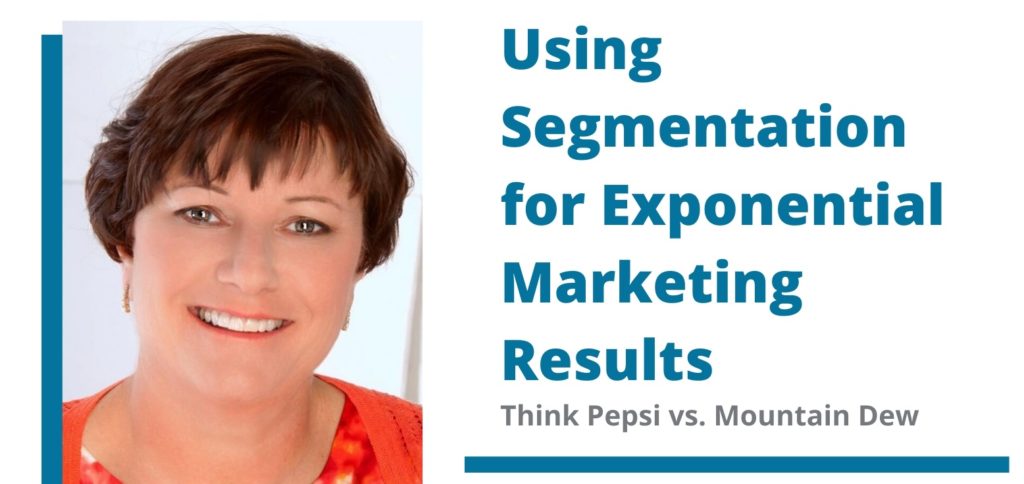 It seems like no matter how hard you try, your next big marketing effort hits the market and… a tumbleweed rolls by. For Pepsi and Mountain Dew, they are marketing much more than a different name and flavor.
In fact, every way they market each individual brand is different. They attribute this, and their positive results, to an emphasis on segmentation.
On Tuesday, January 14, 2020, we will hear about how to use segmentation from Rochelle Blease, a global business growth executive with over 30 years of experience.
Tickets in advance: $12

Tickets at the door: $20

Free attendance as a member: $60 annually

Learning how to properly segment your marketing: priceless
This is a must-attend event to start your new year and a new decade for your business.
Take an actionable step forward to a bigger, brighter tomorrow. Register for your ticket today.
---
From Our Speaker
Rochelle Blease
CEO, Breakthrough Growth / SCORE RI, Chair
I am a global business growth executive with over 30 years of experience and am currently helping dozens of small business and boards be more effective. I've worn many hats over my career and bring a unique combination of energy and expertise in marketing, & communications, strategic planning, corporate development, acquisitions, financial analysis, and market intelligence to drive measurable results.
Learn More About The Company
At Breakthrough Growth, we give you access to a team of seasoned executives with experience solving problems and unlocking growth in their respective fields. We believe that by bringing our expertise and simple approach, we will help our clients achieve breakthrough growth. We are creating new success stories with our clients every day.
---
When: Tuesday, January 14, 5:30 – 7:30pm
Where: Sonoma Bistro and WineBar, 7366 Post Road North Kingstown, RI 02852
Parking is Free and Appetizers Will Be Served!
---
FAQ
Do I have to bring my printed ticket to the event?
If you pay at least 24-hours in advanced, no. We will keep a record of those who purchased a ticket at the door and confirm your payment then.
Reminder: Ticket Sales end at NOON on the day of the event! Buy online early and save! Tickets are $20.00 at the door.
Can you tell me a little more about what to expect?
Sure! We meet for about two hours, but follow a typical flow: between 5:30 – 6:10 people arrive, grab some appetizers, and network with others; from here, our guest speaker will present and take questions until about 7pm. At this point of the night, our program is complete, but you are welcome to stay and chat longer, or spend time at the restaurant or bar as much of the crowd will do.
How does AMP-RI membership work?
Annual members pay a single, $60 fee for the year and attend all events free! That's a great value financially. However, you also get great benefits such as discounts to special seminars, free exposure through our website, and access to a network of over 500 local professionals and business owners to post job opportunities or share your own resume.